Gerber Accumark 8.4.0.93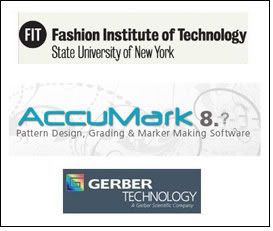 Gerber Technology, a business unit of Gerber Scientific Inc and a world leader in automated CAD/CAM and PLM solutions for the apparel and flexible materials industry, is helping the Fashion Institute of Technology (FIT) to both expand and upgrade the college's software tools to ensure its students are best prepared for careers in fashion.The expanded relationship with FIT is part of Gerber Technology's ongoing educational alliance program that reflects its commitment to help expose students to the latest technology by providing software and hardware solutions that meet the rapidly changing needs of the apparel industry.With Gerber Technology's underwriting assistance, FIT is increasing the number of AccuMark seats by 67% and upgrading to version 8. With nearly 50,000 installations worldwide, AccuMark has long been the industry's leading software for pattern design, grading, and marker generation. Launched in February 2010, AccuMark 8 provides users with enhanced capabilities to work more efficiently and with great accuracy across geographic borders and language barriers."As a leader in the industry, we at Gerber Technology have a responsibility to help ensure that today's students are well-prepared to become tomorrow's leaders in an industry as demanding as the world of fashion," said Bill Brewster, VP of Gerber Technology and head of Gerber's Software Systems Group. "We are proud of our long-standing relationship with FIT and the role that Gerber Technology's hardware and software products provide in preparing its students for successful careers," he added.In addition to instructing its students on AccuMark, FIT leverages many other Gerber Technology solutions, including the GTxL GERBERcutter, the XLs125 GERBERspreader, the Silhouette Drafting Table, the Infinity Plotter and webPDM."Here at FIT, we teach and inspire emerging leaders through a curriculum that reflects what's happening every day in corporate offices, showrooms and studios around the world," said Robin Sackin, Acting Dean of FIT's Jay and Patty Baker School of Business and Technology. "Our strong relationship with industry leaders like Gerber Technology enable us to provide state-of-the art hands-on training, and we are grateful for the decades of support and generosity from the Gerber team," she added.

Gerber Technology's Educational Alliance Program works with more than 1,000 educational institutions across 82 countries worldwide to help them provide hands-on experience to integrate Gerber's latest software and hardware technology into their curriculum.
Link Download Gerber Accumark 8.4.0.93: ……………………………………………….